How to Make and Use Discord Stickers
Discord is an application that provides various unique features, such as adding stickers. If you do not want to talk in a Discord channel, it is also possible to participate in the conversation using stickers. More specifically, Stickers are used to express feelings without showing facial expressions and words. You can also utilize stickers as verbal communication, depending on the specific content.
This manual guide will explain about:
Let's start!
What are Discord Stickers?
On Discord, stickers are small or large images that express some emotions. It is another way to take part in channel conversations. It provides various unique characters based on animated and transparent assets.
How to Make Discord Stickers?
There are multiple online tools available to make Discord stickers, such as Kapwing studio, PIXLR, GIMP, paint.net, PICMONKEY, and Canva, where you can make stickers according to your choice. In our case, we will utilize the Kapwing studio tool to make the stickers.
Step 1: Sign in to Kapwing Tool
Click on the Kapwing studio link to sign in:
Step 2: Create New Project
Create a new project by clicking on the "+ Create a new project" option: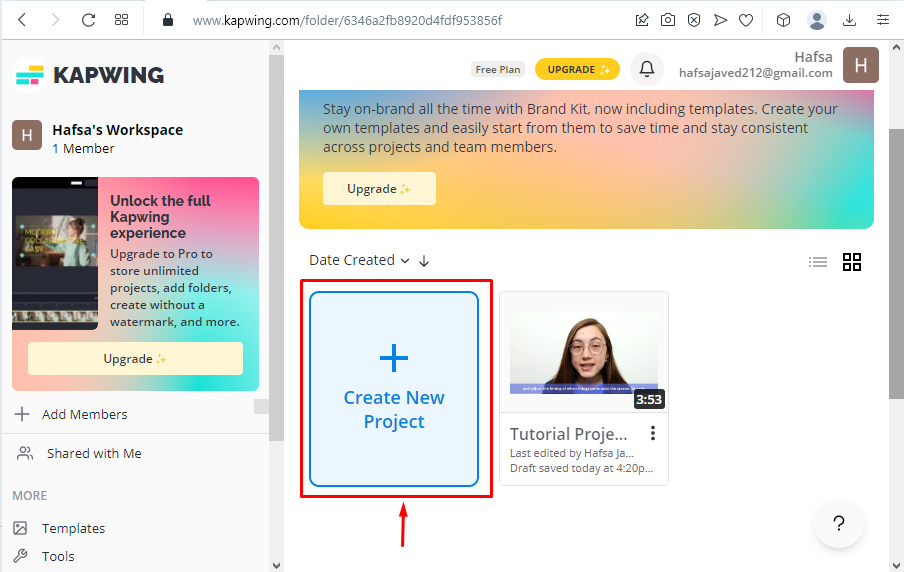 Step 3: Upload a Picture
Next, press the "Upload a File" to choose an image from the local system for which you want to create a sticker:
The uploaded image will be displayed as follows:
Step 4: Add Colored Text
Add some description according to the image by selecting the "Add Text" option from the "Text" menu:
Add the required text in the opened text box:
Step 5: Export Image
Now, export the image in "JPEG" format to our local system by clicking on the "Export as JPEG" option:
Then, click on the "Download File" option to save it in our local system:
How to Compress Sticker Size?
If the image size exceeds "512KB", it can not be uploaded as a Discord sticker. In such a scenario, you can compress the sticker size using online tools. There are a large number of tools available for changing the size of the image, including "IMAGE COMPRESSOR", "Optimizilla", and "tinypng". In our case, we will use Optimizilla to minimize the sticker's size.
Step 1: Visit Optimizilla Official Website
Firstly, visit the official website of your favorite compressing tool, as we selected Optimizilla: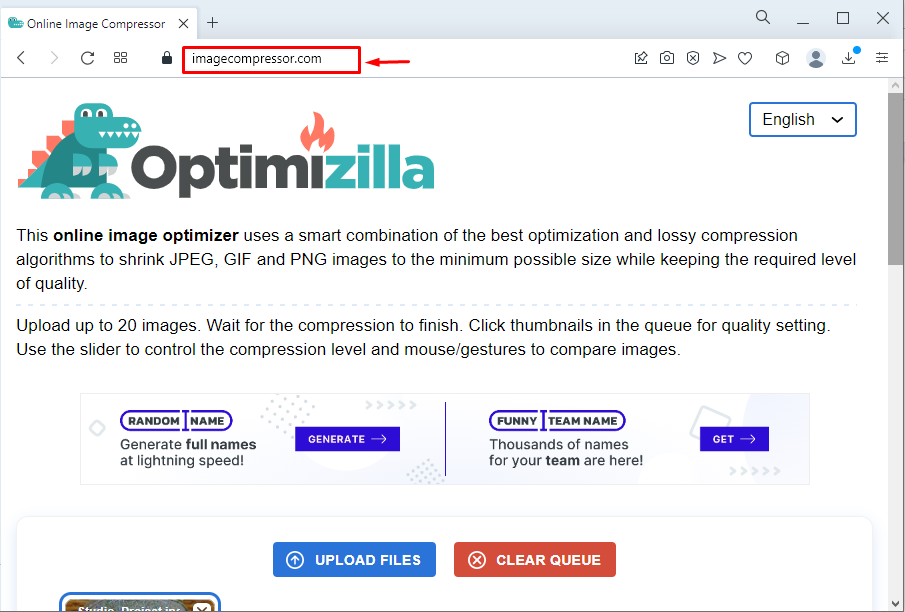 Step 2: Upload Sticker
Next, upload the sticker from your system by clicking on the "UPLOAD FILES" button:
Select the sticker image from your gallery and click "Open":
Step 3: Specify Sticker Size
Specify the desired sticker size. For instance, the actual size of our sticker is "1.5 MB", which will be reduced to "494 KB" after compression:
Step 4: Download Compressed Sticker
Now, download the compressed image or sticker:
The compressed sticker is all ready to use on Discord.
How to Add Stickers in Discord?
If you want to add this compressed image to your Discord account, then follow the below procedure.
Step 1: Open Discord Server
Select your desired Discord server as we will choose "Linuxhint Gaming Server":
Step 2: Launch Server Settings
Next, open the "Server setting" from the drop-down menu: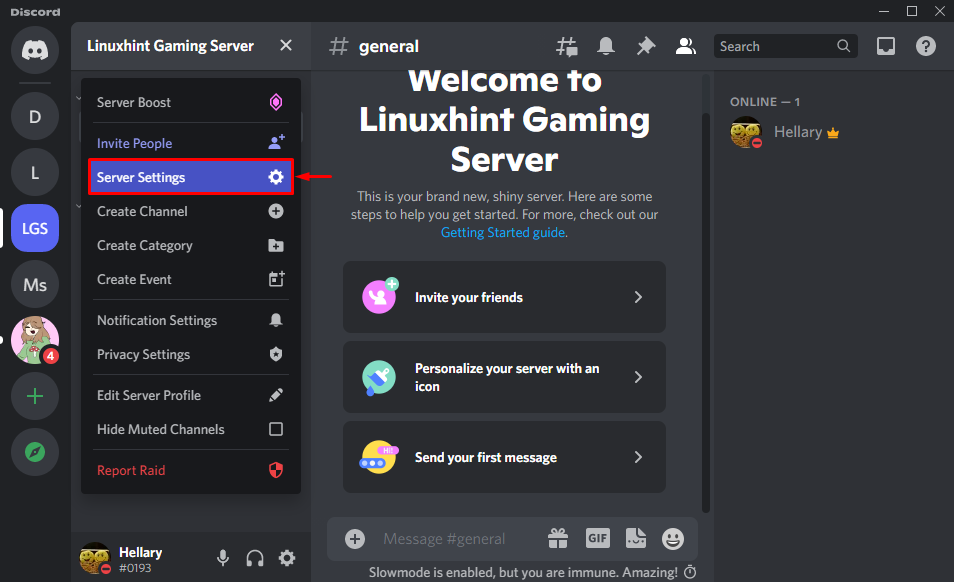 Step 3: Open Stickers Category
Navigate to the "Stickers" category: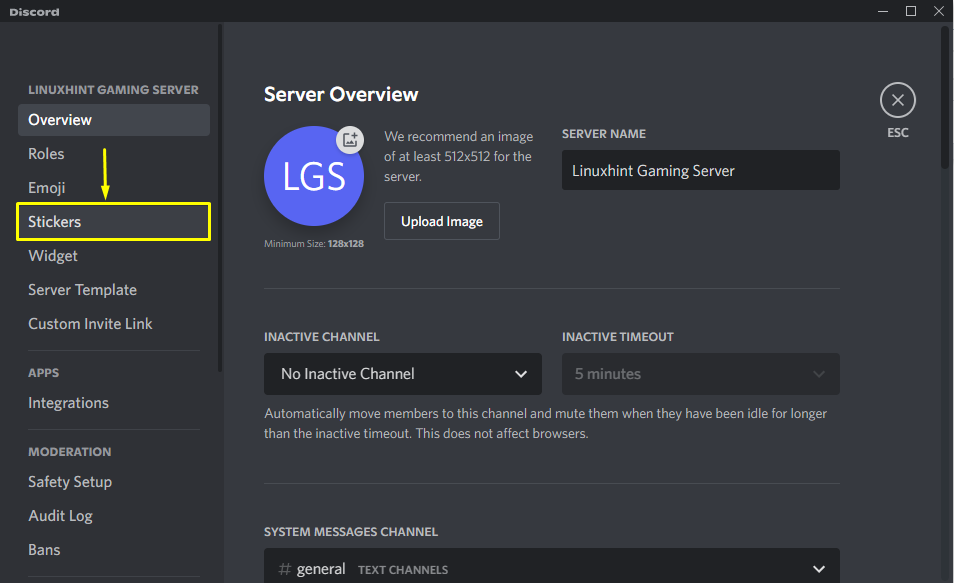 Step 4: Upload Stickers
Click on the "Upload Sticker" button to upload created stickers from our desktop:
A window will appear on the screen. Click "Browse" to select the image from the gallery:
Now, select the downloaded image from the folder where it is saved:
Specify the "RELATED EMOJI" and a "STICKER NAME" and then click on "Upload":
It can be seen that the image is successfully uploaded: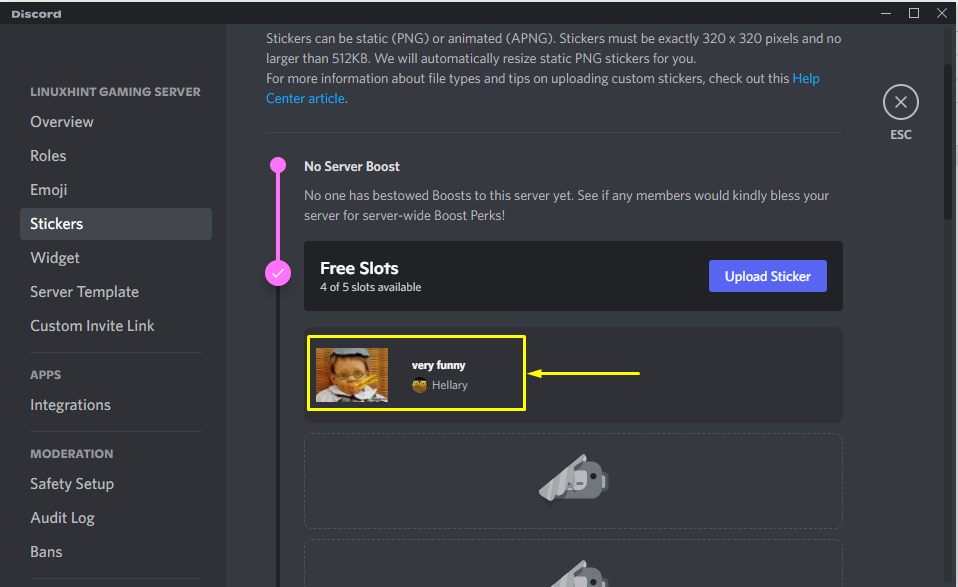 How to Use Discord Stickers?
If you want to use the Discord stickers, follow the given procedure.
Step 1: Open Discord Server
Open your desired Discord server:
Step 2: Move to Text Channel Message Area
Navigate to the message area of your text channel and click on the "Stickers" icon:
Step 3: Upload Sticker
Select the customized sticker that you have recently uploaded and hit "Enter":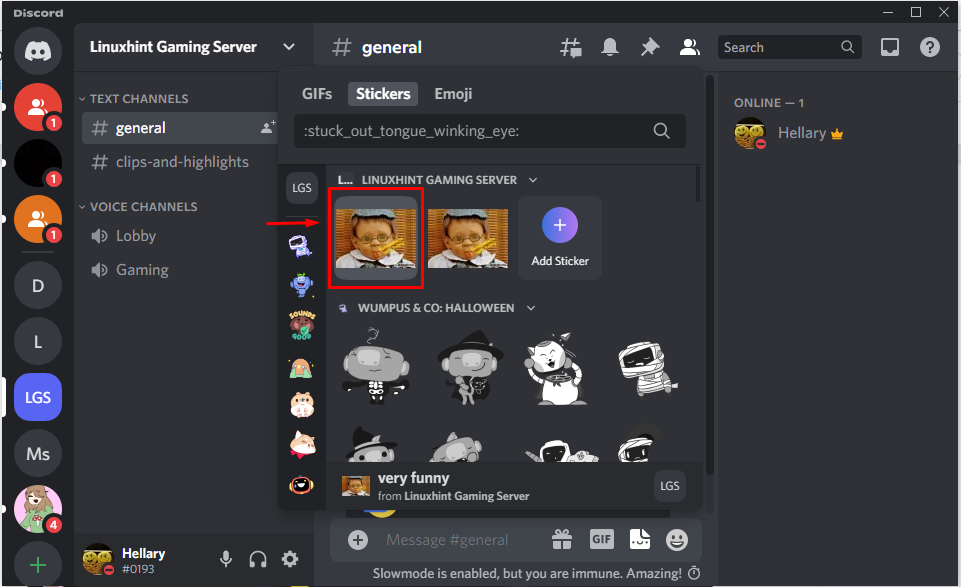 As you can see, we have successfully sent the selected sticker to our text channel: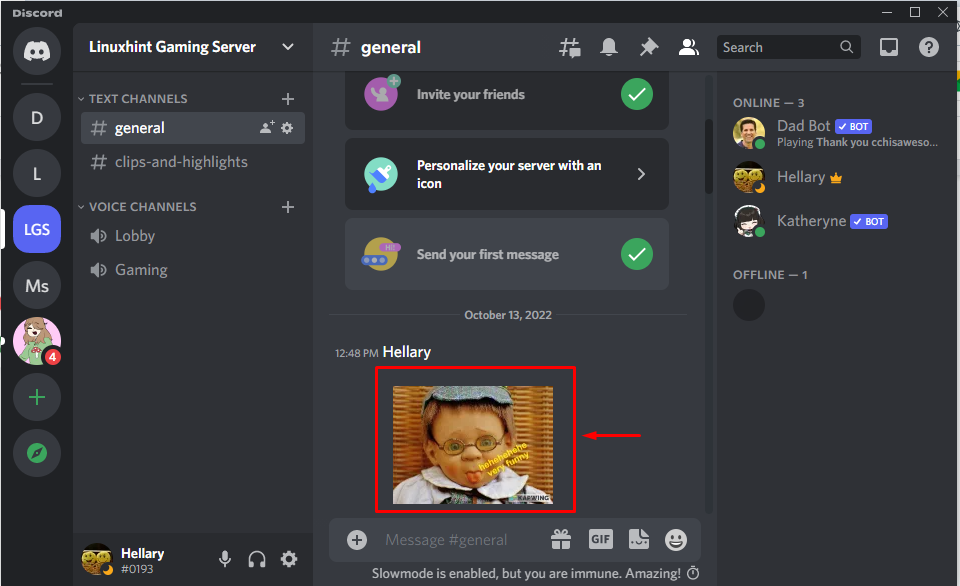 The above post demonstrated the procedure for making and using Discord stickers.
Conclusion
To make and use Discord stickers, first of all, log in to Kapwing studio, then upload a file and add some text to the image, and download it. Then, compress the image size by using the online tool Optimizilla. After that, open Discord server settings and add the sticker by clicking on "Upload File" and then send it in the text channel. This blog demonstrated the procedure of making, compressing, and using Discord stickers.
Source: linuxhint.com