How to Install Lutris Gaming on Ubuntu 22.04
"Gaming is most people's favorite way of spending their leisure. For Linux users, running games require additional tools such as
Lutris
for a seamless gaming experience. Lutris is designed as a game manager for Linux systems, and with it, you get an easy time installing and enjoying games on Ubuntu. Moreover, Lutris allows you to access multiple games from its catalog, and provided you've logged in, downloading and installing a game becomes an easy task.
If you are looking for a game manager for Linux, this guide covers the steps for installing Lutris on Ubuntu 22.04. Take a look!"
Installing Lutris on Ubuntu 22.04
Linux is not the best when it comes to gaming. In that case, having a tool like Lutris makes your gaming experience easier. Follow the below steps to install Lutris gaming on Ubuntu 22.04
Start by updating the repository using the apt command below.

Once your apt database is updated, use the command below to install the latest version of Lutris on your Ubuntu 22.04.
$
sudo
apt-get install
-y
lutris

With Lutris installed, you must have an account for you to start using it for downloading games.

Once you've created your Lutris account, open Lutris from your applications.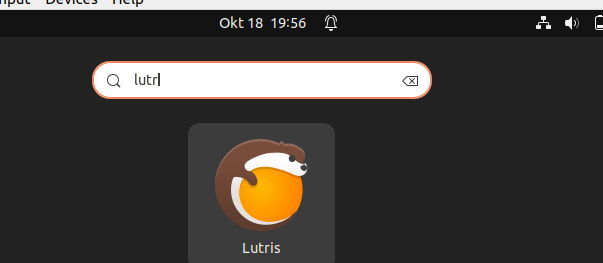 Next, click on the icon next to Lutris on the right.
Enter the Lutris credentials you used when registering for a Lutris account earlier, then click the Connect button at the bottom.
Open Lutris.net on your browser and log in to your account. Once logged in, click the search icon at the top and enter the name of your desired game. Once the name appears, click on it and tap the Install button to install the game.
Once you click the install button, you will get prompted with the option to open the link on your Lutris application by clicking the Open Link option

Lutris will start to download and install on your system.
Let the process go to completion for a smooth installation.
You may also need to install Wine on your system. So, when prompted, follow the on-screen instructions and install Wine on Ubuntu.
Once the installation completes, open the Lutris application on your Ubuntu and locate the installed game under the game section on the left.
You should find your game listed there. Feel free to click the game to start playing it. You can also search for other games and use the same steps to install the game on Lutris.
Lastly, if you need to uninstall Lutris from your system, use the below command.
$
sudo
apt-get autoremove
lutris
Lutris and its dependencies will get removed from your system. That's the complete guide to installing and removing Lutris from Ubuntu 22.04. Hopefully, you've followed the steps and installed Lutris on your system.
Conclusion
Lutris is an excellent game manager for Linux users. For Ubuntu 22.04 users, this guide has presented a complete hands-on guide on installing Lutris and using it on your system. Thanks to the steps presented, you can now comfortably use Lutris on your system and play different games.
Source: linuxhint.com