Dippi – Tells if the Laptop/External Monitor Best Choice (HiDPI or LoDPI)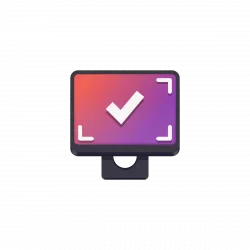 Going to buy a new monitor or laptop, or want to calculate whether it's a HiDPI display? Here's a handy app can help!
I previously thought that 4K and 8K displays are HiDPI, but 720p that I'm being using is LoDPI. It's 100% wrong! HiDPI, stands for High Dots Per Inch, also known by Apple's "Retina Display". Meaning screens with a high resolution in a relatively small format.
A HiDPI monitor may be good for displaying photo images or playing FPS games, but not all software behaves well in high-resolution mode yet. If you're going to buy a monitor or calculate existing display DPI, then here's a good app for choice.
It's 'Dippi', a free and open-source GTK4 application developed by a GNOME Foundation member.
With it, you just need to tell: laptop or desktop, monitor size (inches), and screen resolution. Then, it shows you aspect ratio and DPI value, as well as display's density.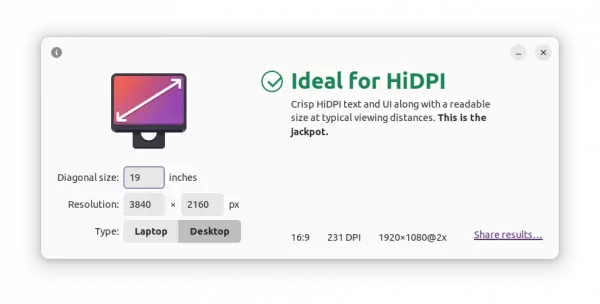 They include:
Very Low DPI,
Fairly Low DPI,
Ideal for LoDPI,
Potentially Problematic,
Ideal for HiDPI,
Fairly High for HiDPI, or
Too High DPI
Each value has some texts below to tell the text and UI feeling (too small or too large) at typical viewing distances. As a GTK4 app, it looks good in Ubuntu, Fedora and other Linux with GNOME desktop. And, it automatically changes the UI color between light and dark mode, to follow system color scheme.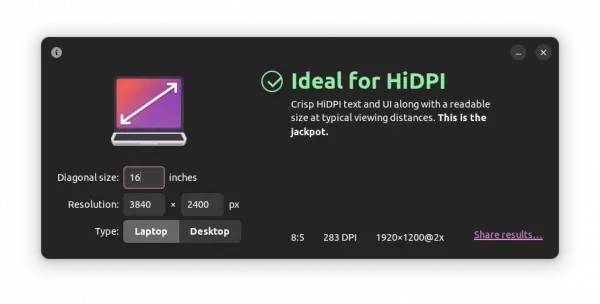 How to Install Dippi
Dippi is also available as an online service, you can visit this page to analyze your display.
For most Linux users, it's available to install as universal flatpak package in Flathub.org.
Ubuntu user can do following steps one by one to install the package:
Firstly, press Ctrl+Alt+T on keyboard to open terminal. When it opens, run command to make sure Flatpak is enabled:

sudo apt install flatpak

For the old Ubuntu 18.04, add this PPA repository before running apt install command.
How to Remove Dippi
To remove the app installed as Flatpak, open terminal and run command:
flatpak uninstall --delete-data com.github.cassidyjames.dippi
Also clear useless runtime via flatpak uninstall --unused.
Source: UbuntuHandbook